Pomegranate-Glazed Roasted Root Vegetables with Whipped Goat Cheese
Pomegranate-Glazed Roasted Root Vegetables with Whipped Goat Cheese was originally published on The Produce Moms®
Are you looking for a veggie side dish for your holiday table that will knock everyone's socks off? Here it is! Pomegranate-glazed roasted root vegetables with whipped goat cheese is a knockout, both in flavor and appearance.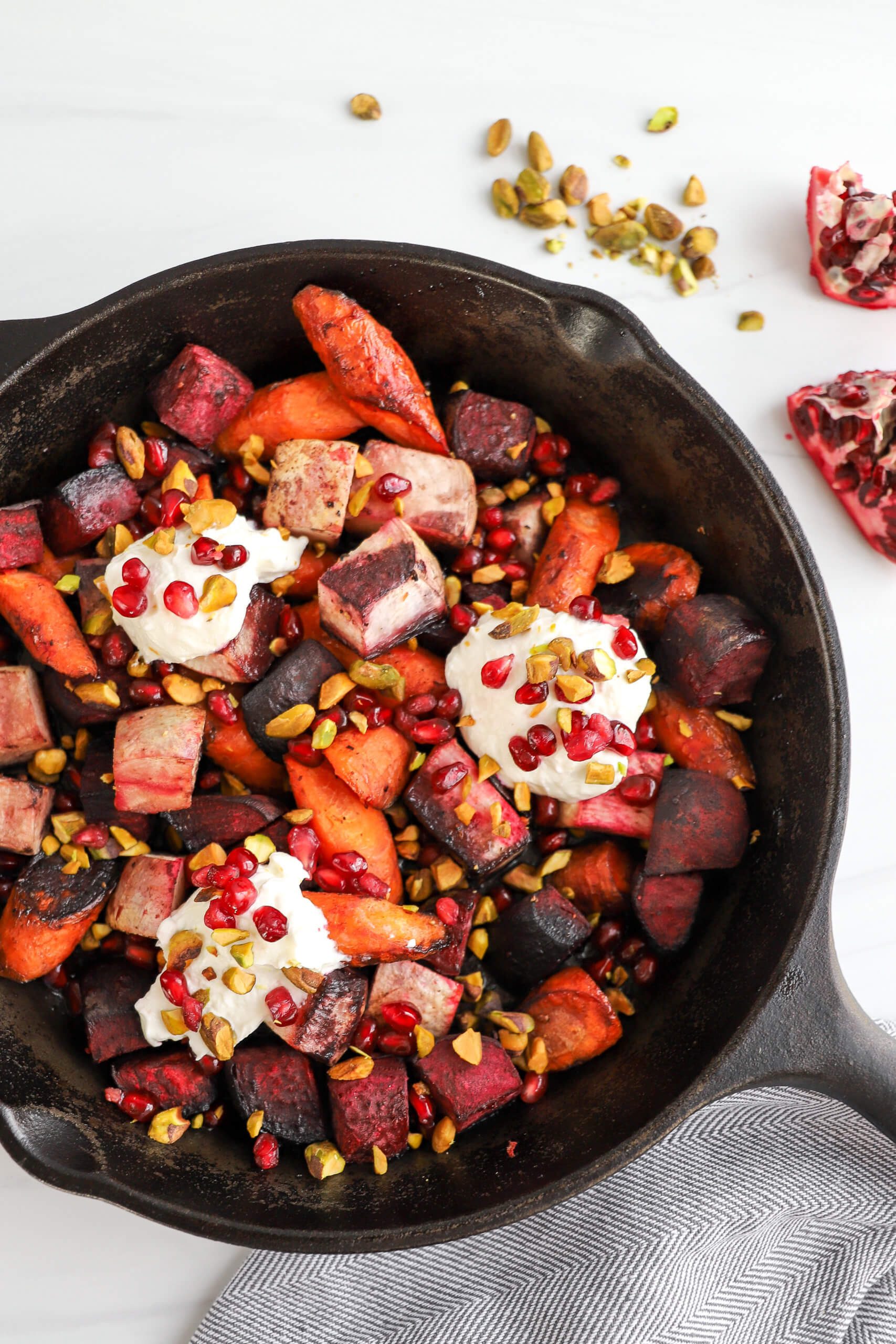 This dish combines three of the most flavorful and colorful root vegetables: carrots, beets, and turnips. They are glazed in a rich pomegranate sauce and topped with whipped goat cheese,  crunchy pistachios, and more ruby red pomegranate seeds. 
Move over turkey and ham, this side dish is destined to be the star of the whole holiday meal. Its bright colors are inviting and the flavors will have everyone coming back for seconds. 
But don't just save this side dish for the holidays. It's simple enough to whip up on weeknights too. It takes about ten minutes of prep and twenty-five minutes to roast. And best yet, it's a one-skillet dish meaning fewer dishes after dinner! 
The trio of carrots, beets, and turnips really complement each other, both in taste and appearance. However, you could swap in other root veggies if you have something different on hand. Parsnips, radishes, or potatoes would all work great. 
One thing is for sure, you don't want to skip the pomegranates or pistachios! They provide crunch and a subtle sweetness that elevates this dish. Not to mention the festive appearance they provide.